Track the name of the charge, the amount of the bond, the power used, and the premium collected for all your bonds.
Autocomplete Search
With our sophisticated autocomplete search box in the nav bar you can start typing the power and get immediate results with detailed descriptions of power status and defendant name, so that you can easily find your powers from any page.
Organized & Easy to Find
All bonds are organized into files which represent each time you've bonded out a defendant. You can easily see the liability and premium collected on each bond or for the file as a whole.
You can navigate to the power in the inventory associated with a bond by the click of a button, or if you have search for the power in the search bar you can easily click to navigate to the bond associated with it.
Keep Track of Liability
On the defendant screen you can see the total liability of the defendant based on all their bonds and the status the power associated with them is in, or you can see this on a per file, or per bond level.
Automatic Premium Calculation
The premium to collect for a particular bond and file are automatically calculated based on the rates specified for your surety company, based on the surety company associated with a particular power in your inventory. Multiple surety companies are supported.
Power Inventory
A power inventory is kept so that bogus power numbers can't end up used on a bond, and powers can only be used for one bond. Easily search for any power number in the inventory using the search bar, to see relevant information associated with it.
An interface is provided for inputing powers into your inventory by using a the range of powers in the group you are provided. No need to enter them individually.
Voids & Rewrites
The system tracks all voided powers to be included on your end of the month report, as well as supports rewrites of current bonds in case of change. Calculation for the new amount owed to your surety company is also done automatically on your end of the month report.
Reporting
Detailed reporting allows you to print your end of the month report to provide to your surety company, including executed, discharged, and voided bonds.
There are also many graphical reports to show you liability over time, average liability per defendant over time, and premium collected before and after surety fees over time.
Screenshots
Add Powers to Inventory
(Can be added with start/end numbers)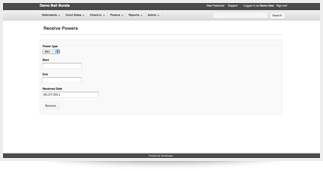 Autocomplete Power Search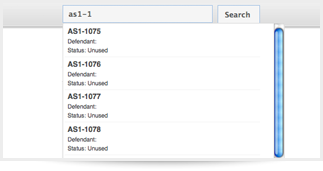 Defendant File w/ Premium Calculation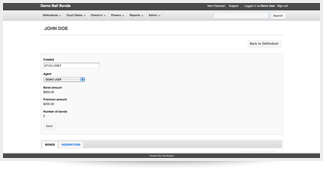 Execution Report (End of the Month Surety Report)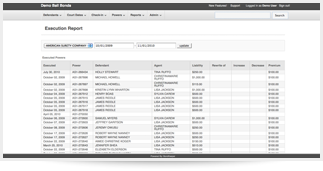 Liability History Graph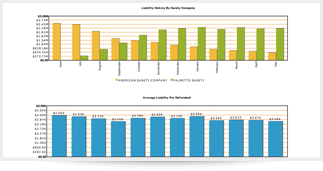 Income History Graph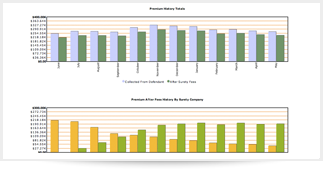 Signup & Start Saving Today!