Detailed reporting allows you to see how your business is doing over time, and gives you all the necessary information for your surety company at the end of the month.
Execution, Voided, and Transferred
At any time you can generate a detailed report showing what bonds/powers have been executed, voided and transferred between those dates.
This report also includes the total premium collected, and surety fees owed, and amount to be put in your build up fund (BUF).
The report includes all relevant information about the defendant and can be used as your end of the month report for your surety company.
Liability
Easily view the total liability for your company on a month to month basis across all defendants in the system, as a whole or on a per surety company basis.
Reports also show your average liability per defendant.
Graphical reports will show you how this information has changed over the past year.
Premium
See graphical reports of your premium collected over time as a whole, per surety company, and average collected per defendant.
Check-In
This report will show you which days your defendants commonly check-in on, to give you an idea of how many defendants regularly check-in late, and how late.
There are individual reports to show you how this has changed over time to get an idea if your defendants are getting better or worse.
Screenshots
Liability History Graph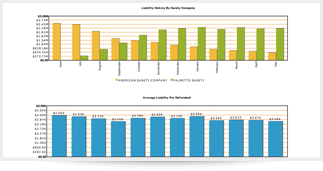 Income History Graph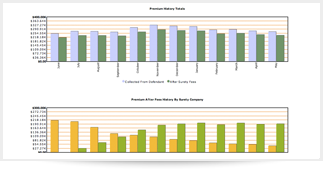 Check-In History Graph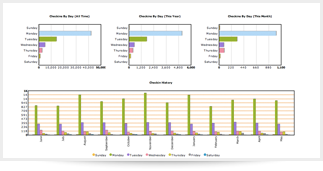 Execution Report (End of the Month Surety Report)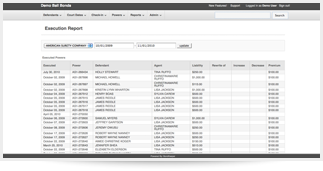 Execution Report Summary
(Premium Collected, Owed to Surety, Build Up Fund)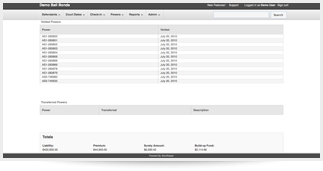 Signup & Start Saving Today!