BondKeeper has the most sophisticated and automated check-in line available. No need to have employees answer the phone to check someone in, or to remind someone of an upcoming court date.
Completely Automated
An automated system will answer the phone and prompt your defendant to identify themselves by typing in their social security number. If the number they are calling from is the primary contact number specified on their profile, the system will recognize them automatically and will not prompt them for their social security unless they specify the person found is not them.
It will then ask them to confirm their primary contact phone number and prompt them for a new one if this is no longer the best number to reach them on. The defendant screen is automatically updated with this new information.The defendant will then be notified that their checkin was successful.
Auditing
Easily see who has not checked in by viewing the Did Not Check-In list. This is a live list of all defendants who have not checked in. You can easily call people off the list to inquire why they have not checked in and either have them check-in or manually remove them from the list.
A graphical report on the defendant screen will also show you which days the defendant checks in so that you can easily see who continuously misses the correct date.
Detailed graphical reports show you your client base as a whole over time to see if people are getting better or worse.
Reminders
After successfully checking in the user will be read off any upcoming court dates they have, including the name, address, floor and court room number of their appearance.
Defendants will be read this information every week when they call in up until the appearance so they will not forget.
Screenshots
Overall Check-In History Graph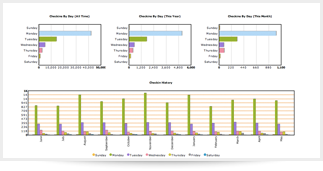 Check-in History on Defendant Page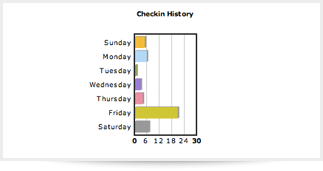 Number of Not Checked-In Defendants on Dashboard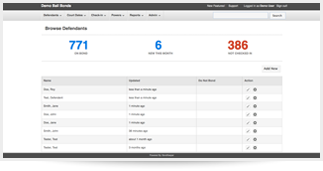 Did Not Check-in List (live)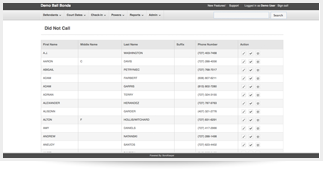 Signup & Start Saving Today!