Easily manage upcoming court dates for all your defendants. Never have a defendant miss court do to forgetting a court date again.
Overview
Add court dates to a defendant along with the court, floor and room number to a defendant and easily see upcoming court dates right on your defendant screen when you call them.
Reports
Reports are easily viewable of all court dates for all your defendants so you can see court dates in the next 30 days, and court dates tomorrow. You can call people off this list as an added safety net.
Reminders
Defendants are reminded automatically of any upcoming court dates every time they call the check-in line. The system will read back the court name, address, and the floor and room number they are to appear at.
If enabled the system will also generate an SMS Notification (text message) and send it to the defendants cell phone the day before court with all of the appearance information.
Screenshots
Add Court Date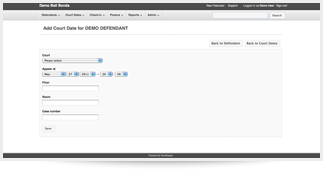 All Upcoming Court Dates List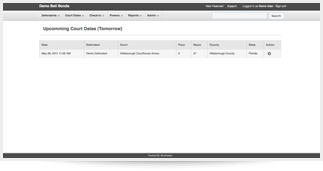 Upcoming Court Dates List on Defendant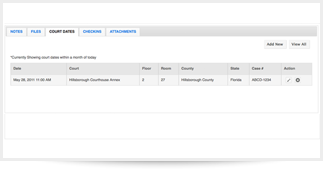 Signup & Start Saving Today!