BondKeeper allows you track all kinds of information about your defendants. Including appearance and identifying marks.
Autocomplete Search
With our sophisticated autocomplete search box in the nav bar you can start typing the name of a defendant and get immediate results with detailed descriptions, so that you can easily find your defendants from any page.
Bonds
All bonds for a particular defendant are tracked along with the power used so you can easily find your way to the particular power from a defendant, or from the power to the defendant.
Files
A defendant profile supports multiple files so that you can keep a file for each time you bond out a particular defendant. All bonds, indemnitors, and liability is tracked on a per file basis.
Addresses
Keep track of an unlimited number of known addresses, so that you can easily find your defendant if they jump bond.
Attachments
Upload any number of attachments. This can be any images or files you want to associate with your defendant, so that you may access them anywhere. Examples include scanned copies of their drivers license, social security card, receipts.
Employers
Keep contact information for any number of employers associated with a particular defendant so that you may have additional places to reach your defendant.
Court Dates
See all upcoming and past court dates for a particular defendant, by adding them a defendant will also get automatic SMS notifications the day before court with the name, address, and court room number of their appearance. They will also be reminded of this information every time they check-in. Ensure a defendant never misses another court date, and minimize the number of calls to your office asking for this information.
Check-in History w/ Graph
BondKeeper tracks all check-ins made by a defendant, you can see the date & time of every check-in made as well as the phone number they called from, and what they stated their primary contact number was. You can also see a graph on the defendants profile that shows what day of the week they check-in on most frequently.
Notes
Add any number of notes to a defendant so that employees can easily keep each other updated about what is going on with a defendant. If they've called or you called them you can mention it in the note.
Screenshots
Dashboard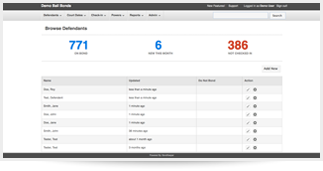 Autocomplete Search
Edit Defendant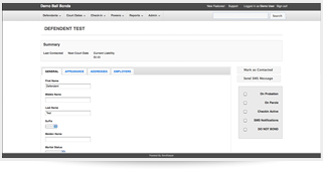 Check-in History on Defendant Page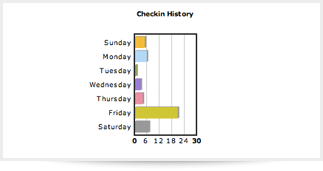 Signup & Start Saving Today!